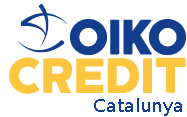 Oikocrèdit Catalunya has two lines of action. First it spreads the concept of socially responsible investments. Secondly it attracts funds to Catalonia by purchasing shares in Oikocredit International to invest them in this international ethical cooperative, which uses this money to grant credits to local organizations from developing countries faced with difficulties in accessing credits. These credits are used to finance productive projects.
Oikocredit not only provides loans and recovers them, but also studies the viability of the projects requesting financing, which takes place before the investment is made and with a follow-up during the duration of the credit.
OIKOCREDIT has the following objectives:
1) To work with the poor in their struggle for self-determination by means of their productive companies by granting capital loans, guarantees and investments.
2) To give all persons requiring it the possibility to find an investment channel allowing them to participate actively in development.
3) To be a viable business model for a fairer economic order proving that an organization based on ethical principles can be a viable business model, helping the poor and, at the same time, allowing them to become self-sufficient.
HOW CAN I PARTICIPATE?
The conditions to place my savings with Oikocredit are the following:

Minimum investment: €200
Maximum annual dividend: 2%
Duration: minimum 1 year
Liquidity: 15 days
No commissions

Will my investment be safe?
The money you invest in OIKOCREDIT Catalunya will be used by the association to purchase shares in the cooperative OIKOCREDIT International. Therefore, is for any reason the cooperative went into a loss, the value of the shares of each member -one of which is our association- would drop, and consequently that of the contributions made by the members of OIKOCREDIT Catalunya would drop too. Even if this has never happened in the 25 years over which the cooperative has existed, if this were to happen then the amounts of the investments would drop in the same way.
Conclusions for those persons depositing their savings with Oikocredit:
1) The poor are members deserving full trust.
2) Over the past 25 years, investors in Oikocredit have not lost a single Euro cent in their investments. Any loss there has been has been covered for with our contingency fund, which is fully financed using our own income.
3) Oikocredit's activities will not change the world, but we do try to improve it for our members. The fact that they are poor is ultimately a consequence of a global economic system that excludes them from all opportunities.
For further information visit http://www.oikocredit.cat