Acció Solidària contra l'Atur (ASCA) was created to confront the problems of unemployment. Its mission is not to end unemployment, because it is not ready to do so nor is there any single organization able to do this alone. Its objective is to help people who are unemployed and want to exit this situation through self-employment projects.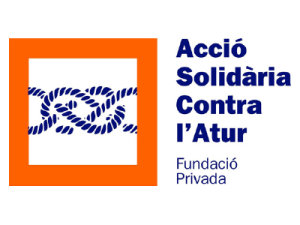 They support self-employment projects and offer economic support to purchase work instruments by means of:
Program of momentary support for vital needs:
This is financial support in order to help the unemployed exits from critical situations and include help for basic subsistence such as food, housing problems (evictions, rents…) utility bills (water, electricity…) and other mixed help.
Applications are submitted using a standard form together with all relevant documentation. A technical commission then makes a decision on each application following very strict criteria that have been previously established.
This support is normally non-refundable and on some occasions a total or partial refund is agreed based on the situation in which the person applying for aid is in.
Aid for labour insertion processes:
The goal of this program is to try and provide unemployed workers with some elements so that they can find a job immediately. It is processed through a social worker from the Social Services or other specialized services who will fill in the application and provide all proof documentation.
Whenever possible, the person having received this aid must pay it back totally or partially with no interest. The amounts of this aid will depend on the activity.
The economic aid that is provided here is usually for:
Training.
Renting premises.
Purchasing machinery.
Paying permits or social security fees.
Purchasing or repairing vehicles.
Purchasing merchandise.
Social Funds:
The objective of social funds is to support migrant people, most of them women, who have a job but do not have sufficient resources to find stability and progress professionally.
The economic aid is in the form of a loan with no interest of no more than €1,500 repayable depending on their possibilities and within a time agreed beforehand, which is usually 4 months.
Social Funds are based on the premise of solidarity and responsibility of the persons applying for the loan (the beneficiary and a moral guarantor). In order for other migrants to benefit from these funds they must be repaid.
Micro-credits for self-employment and entities:
These are loans with no interests for the creation or consolidation of entrepreneurial initiatives such as:
Social and Labour insertion enterprises, special work centres and occupational workshops.
Industrial or services cooperative entities, foundations or associations.
Self-employment micro-companies.
The projects are normally submitted and assessed by the economic promotion services of town councils, regional councils, etc. and are submitted using a standard application form.
A technical commission made up by voluntary professionals and a social worker will then study each application and decide following a set of rigorous criteria.
To be eligible for a loan, the project must:
Be economically viable in the mid and long-term.
Be sufficiently socially mature to ensure the quality of the workplaces, with contracts and adequate working conditions.
Promote as many jobs as possible.
Contribute to maintaining social cohesion.
For micro-companies, the developer of the project cannot have sufficient economic resources or access to a bank credit due to a lack of endorsements or properties.
Usually the loans in this program are not taxed or subject to compensation. The repayment conditions are agreed after the viability study has been undertaken.
For further information visit www.acciosolidaria.cat