Workshops and activities
More than 50 schools have enjoyed our workshops and activities.
Promote ethical finance among the youngest!
We have subsidized, face-to-face workshops available this school year.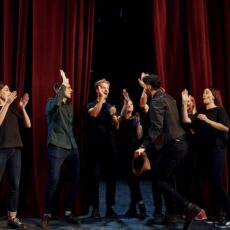 Taller teatral
El cercle trencat
4rt d'ESO i Batxillerat
El Cercle Trencat is a participatory theater workshop that combines theater with the active participation of attendees. The workshop presents a story that shows the dangers and consequences of not respecting the concept of the circular economy and of breaking the circle of harmony. Where is the ethical quality in finance? The story opens up questions about the balance between individual and collective well-being where the participating people will have to position themselves, argue and take action from fiction.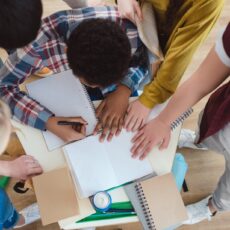 The role of finance
3er i 4rt d'ESO
This workshop is a dynamic where the students will simulate financial relationships that occur between savers, entrepreneurs and conventional banks and ethical banking. The students are divided into four groups and each one is given a description of their role and their objectives. Thrifty and enterprising people will have to approach the two banks to achieve their goal, then collectively debate the differences and share the conclusions that come from the interactions that have taken place.
Maximum of 30 participants
60 minutes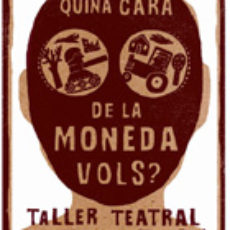 Heads or tails?
Secondary School, Baccalaureate, Professional Training and University
How does money move? How does it move us? Through the story of a young banker in the US in the 1960s, we explore a series of situations and dilemmas that drive debate and reflection on the personal responsibility we face when deciding what to do with our money.
Money at any cost?
Secondary School, Baccalaureate, Professional Training and University
This workshop provides a simple, dynamic and participative explanation of the logic of the financial system and the role it plays in the economy. With this information, we can discover the social and environmental impact banking institutions have and measure the distance between our personal values and how we save and invest.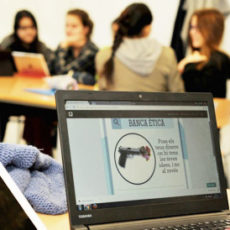 Money with values
Baccalaureate, Professional Training and University
A 15-minute video encourages reflection on the role finances play in the economy, the principles of economic financing and what kind of world different models promote. With plenty of room for critique and creativity, the debate focuses on our personal experiences with money and savings.